Saline vs. Silicone Breast Implants: Which Is Right for You?
By Peter Fisher, MD on July 21, 2016
---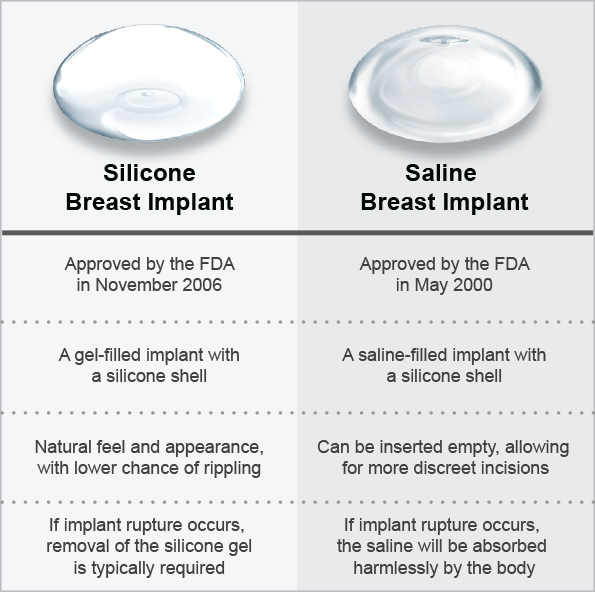 Breast augmentation increases the size of the breasts and improves their shape through the placement of breast implants. One of the most important decisions a patient will make prior to the procedure is whether to choose saline or silicone breast implants. Both types of implants are associated with their own unique advantages and drawbacks. To help make this decision a little easier, Dr. Peter Fisher discusses saline vs. silicone breast implants with our San Antonio, TX patients. Here, we will discuss some of the key differences between the two types of breast implants.
Saline Implants
Saline breast implants are filled with a saline solution. These implants were approved for use by the FDA in May of 2000, and have been widely used since then. Many patients that opt for saline implants do so because they are known as a safe and natural implant option. While implant ruptures are rare, if a saline implant were to pop or leak, the saline solution would be naturally absorbed by the body.
Another benefit of saline breast implants is that they are inserted as empty shells and then filled once they are in place in the breast implant pocket. This offers a couple of different advantages. First, because they are put in place while they are empty, saline implants can be inserted through any of the available breast augmentation incisions. They also require smaller incisions and result in smaller scars. Another advantage of filling the implants once they are in place is that it allows for adjustments to be made to ensure that the breasts are symmetrical and that the patient achieves the final surgical results she desires.
Although saline implants offer many advantages, there are some drawbacks to consider. The primary concern that patients have regarding saline implants is their feel and appearance. In naturally thin women and those with little natural breast tissue, saline implants may not look or feel as natural as silicone implants.
Silicone Implants
In the past, the safety of silicone implants has been questioned, making some patients weary of this implant option. However, studies have confirmed that silicone implants are completely safe, and the FDA approved them for use again in November of 2006. Although silicone implants are safe, in the event of a leak, the implant will need to be removed and the entire breast pocket will need to be cleaned to remove all traces of the silicone gel. Another potential drawback of silicone implants is that they are pre-filled. Depending on the size of the implant, this can limit the patient's incision options.
Despite the potential disadvantages of silicone implants, these remain a popular breast augmentation option. This is primarily because patients prefer the look and feel of silicone implants. Silicone implants feel softer and provide a more natural appearance. These gel-filled implants are also less likely to cause rippling, a noticeable wrinkling of the implant beneath the skin.
Which Is Right for You?
Because safety is not a concern for either type of breast implant, the choice between saline and silicone implants is really a personal one. Patients should consider what type of incision they'd like for their breast augmentation surgery, as well as how they would like their breasts to look and feel after surgery. Dr. Fisher is happy to discuss each patient's surgical needs and desires to help her choose the best possible implant option.
Schedule an Appointment
Whether saline or silicone implants are used, breast augmentation with Dr. Peter Fisher allows patients to achieve the ample, shapely bust line they desire. To learn more about breast augmentation and your surgical options, schedule an appointment with Dr. Fisher at your earliest convenience.
Related to This
Dr. Fisher has been available to answer all of my questions and provide me with not only professional medical expertise, but also a much appreciated level of personal empathy. I would 100% recommend Dr. Fisher to anyone who is considering plastic surgery.

Brandi